During a posthumous declaration to reporters, the specter of Chester Holmbreck lamented the sad state of what has become the crown jewel of Sioux Falls.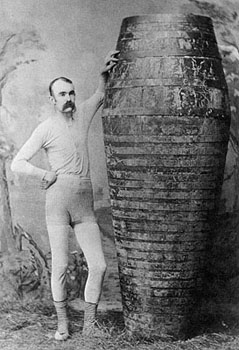 "This dastardly green space," the non-entity proclaimed from beyond the void, "with its sullen masses passively observing the scientifically diminished velocity of a once-glorious alluvial wonderment, floods my lifeforce with a darkness to which only the Chinaman's opium could compare. Nary a single penny candy's worth of excitement remains in what in my time sprung forth a wellspring of fanciful thrills Houdini himself could not alone summon."
Holmbreck, an 1890s barrel rider with a mere two successful trips "down the chute" to his credit, could not be reached for further comment or be seen in any phenomenological sense.
When asked to comment on the otherworldly remarks, Sioux Falls Parks and Recreation spokesperson Larry Dewitt shrugged off the implication that Falls Park is less remarkable than it once was.
"A ghost said that?" Dewitt replied. "Like Patrick Swayze in Ghost, or like Casper?"